Fred B. Wood
January 5, 1927 to May 15, 1950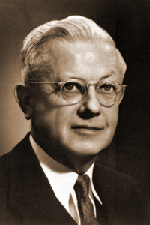 Fred B. Wood was born in Tecumseh, Michigan, on June 15, 1888. He received A.B. and J.D. degrees from Stanford University.
Prior to serving as Legislative Counsel, Mr. Wood was the Chief Deputy Legislative Counsel from 1914 to 1922, thereafter, he was in private practice from 1922 to 1927. He was Secretary of the California Code Commission from 1929 to 1950, and a member of the California Commission on Uniform State Laws and the National Conference of Commissioners on Uniform State Laws from 1941 to 1950. Mr. Wood also served on the School Code Commission during 1928; State Personnel Board from 1934 to 1939; and the Rules Codification Board from 1941 to 1947. He was Secretary of the California Commission on County Home Rule and Constitutional Revision during 1930. He left the office of Legislative Counsel when he was appointed Justice of the First District Court of Appeal, Division One, by Governor Warren in May, 1950, and served in that capacity until 1959.
Mr. Wood was initially appointed by Governor C. C. Young, and later chosen by the Legislature to continue as Legislative Counsel, because the mode of appointment changed during his years of service.
In describing the revision of twenty-five codes of law between 1929 and 1953, the Final Report of the California Code Commission states, "… a very large share of the credit for the completion of the program properly belongs to Fred B. Wood. . . . To him belongs the major credit for directing the details of the research for and the drafting of the codes, and for carrying out the policies and programs of the commission."
He married Alice L. Satterthwaite on September 26, 1914, they had two sons, Frederick B. and Perry S. Mr. Wood died on December 30, 1961.