Ralph Norman Kleps
July 1, 1950 to November 5, 1961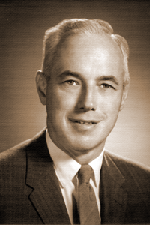 Ralph Kleps was born in Batavia, New York, on February 4, 1914. He received A.B. and LL.B. degrees from Cornell, was admitted to the California Bar in 1939, and practiced law in San Francisco.
Mr. Kleps was Law Clerk for Chief Justice Phil S. Gibson, California Supreme Court, from 1941 to 1942, director of research for the Judicial Council of California from 1944 to 1945, chief of the California Division of Administrative Procedure from 1945 to 1950, the director of the Administrative Office of California Courts, San Francisco, and president, National Legislative Conference during 1955. He served on the Executive Committee of the California Constitutional Revision Commission and as Chair of the National Conference of Court Administrative Officers. He was the author of articles in professional journals. Mr. Kleps was a member of the California Commission on Uniform State Laws and the California Law Revision Commission.
He married Patricia Prescott; they had three children, Christopher P., Douglas J., and Pamela W.