George H. Murphy
December 1, 1964 to November 19, 1976*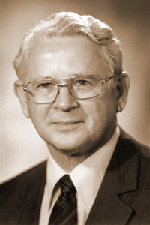 Mr. George H. Murphy was born in Aurora, Nebraska, on September 12, 1913. He received his A.B., LL.B., and J.D. degrees from the University of Nebraska, and was admitted to the Nebraska bar in 1937, and to the California bar in 1938. Mr. Murphy practiced law in San Francisco from 1945 to 1947, and then served as a deputy legislative counsel from 1947 to 1964. He was a member of the California Commission on Uniform State Laws and of the California Law Revision Commission from 1964 to 1976.
Mr. Murphy married Betty Shuhaw; their children are George Wilton and Robert Edward.
* George H. Murphy was acting Legislative Counsel September 28, 1964 to December 1, 1964.