Diane F. Boyer-Vine
June 6, 2002 to September 30, 2020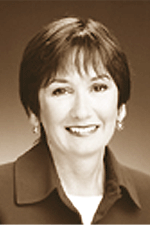 Diane Boyer-Vine was appointed Legislative Counsel of California on June 6, 2002. She retired on September 30, 2020.
Ms. Boyer-Vine joined the office in 1988. During her tenure with the office, she worked on issues involving the state budget and sat with the budget conference committee for one year. She was also involved in representing the California Legislature in various litigation actions, including assisting in preparing the amicus curiae brief before the United States Supreme Court in Keller v. The State Bar of California.
In the early 1990's, Ms. Boyer-Vine worked with the Department of Education's task force on recodifying the Education Code. During her tenure as a chief deputy of the office, she also assisted the Senate Committee on Insurance and the Assembly Committee on Insurance during the investigation of the settlement practices of the Department of Insurance under former Insurance Commissioner Chuck Quackenbush.
Prior to joining the office, Ms. Boyer-Vine was an associate at the law firm of Martorana and Stockman. She also was a judicial extern in the United States District Court for the Eastern District of California.
Ms. Boyer-Vine received her J.D. from the University of California, Davis, King Hall School of Law. She received her undergraduate degree in business administration from California State University, Sacramento.
Throughout her service as Legislative Counsel, Ms. Boyer-Vine was a member of the California State Bar. She also served as a member of the California Commission on Uniform State Laws and the California Law Revision Commission. During her term, she was a member of the Sacramento County Bar Association.